1626 parts, a Lego-Set-n° and hardly anything from Lego? Still not a clone. What's then with Webrick? An attempt to get an EOL set from Lego in a more or less morally justifiable way.
Advice: Contains ads. Got to say this due to German regulations.
Really, it's ain't a clone. Because even the only one off-the-shelf clone that still has existed in the past was from Lepin. And this one has disappeared from the surface along with Lepin. But since I've heard about Gobricks in December 2019, I couldn't get the topic of rebuilding EOL sets out of my mind. Regular readers know about my passion for old Lego-Sets and also about my various attempts to bring old sets back to life.
But this time I'll go one step further. The complete replica of a Lego set with bricks from Webrick, which went EOL (End Of Life) many years ago and is no longer available. Or, if available, only for astronomical prices. Well, Lego's 10187 from 2008, the Volkswagen Beetle, is such a one.
The 10187 – a legend?
Definitely. What we do know today as Lego Ideas or 18+, also has it's roots here. It's also the first licensed set by Volkswagen ever – apart from the HO-Volkswagen released from 1956 to 1965 by Lego.
Back to the franchise in which the Beetle was published: Sculptures. Today it would be marketed probably as 18+ and previously as Creator Expert. When I was studying the catalogs from 2007 onwards I found no mention at all, only in the second half of 2020 Lego noted on the penultimate page (!!) with some few pictures sets for adults. Catalogs are probably more for children after all.
But as mentioned before, that's only half the battle. Originally, the MOC of the Beetle (designed by Steen Sig Andersen) was in competition with other sets in an online poll and a fan workshop. After this was narrowed down one on a few MOCs, a new poll was started at a fan event in Cologne – the Beetle won. (What a coincidence in Germany…)
Legend-digression: Steen Sig Andersen
Steen Sig Andersen. This man is a Lego veteran. I had not expected how many sets I already had from him. A total of 119 (!!) sets were designed by him and among them some childhood heroes like the 4005 (Tug Boat, 1982) or the 6077 (Forestmen's River Fortress, 1990). He has also been one of the leading designers of the modern city theme with minifigures in the early 1980s. According to his LinkedIn profile, he's working for Lego since 1981 – soon to be over 41 years. Dear Sir: Thank you very much!
Beetle won the contest. And now?
Basically, the process continued with a digital rebuilt, using a program called "Easy Builder". Afterwards based on that digital version they built the first prototype for the series production. Later, the finalized design including the prototype was presented to Volkswagen for approval and the rest is history.
In general, this approach later evolved to Ideas, where the community was allowed to decide on a set, which also came from the community. And Creator Expert was also derived from the series. History is a wonderful thing.
Speaking of history. I'll spare you details about the original Volkswagen Beetle made out of steel and its actual history with Ferdinand Porsche, Nazis, World War II, German Economic Miracle, Hippies, San Francisco, Herbie, Oil Crisis, Mexico, Brazil and whatsoever.
Back in my days…
Allow me to dig out a personal anecdote about this bug. I encountered the Beetle for the first time in 2008 at the Lego Store in Munich-Riem. For me at the time, it was a huge behemoth, by far the largest set that I had come across at that time. By that time I was gradually cautiously awakened, but was not a full-fledged friend of bricks (Some kind of "Dawn Age"). Sure, for birthday and Christmas there were Star Wars sets or other smaller sets. I myself would have really liked to buy the Beetle off the shelf. But the then RRP of 119.- US-Dollars (or 119.- or 129.- Euros) was just way too expensive for me at that time. In other words, there was simply no money left for it. The years went by, other Lego sets came to me. Among other things, the Lego Volkswagen T1 Camper 10220 as the ultimate Christmas gift in 2010. So it happened that the years passed and thus the memory of the Beetle faded away.
Purchase Incentive
It was in January 2022…
As I told you in the Breaking Brick News for 2022 in January, Webrick became one of my new partners. We have communicated long and hard, especially on the subject of gobricks and quality of bricks. I really thought deeply for a long time and also talked to some bright minds from the MOC designer community about which bricks they would consider as reference for bricks.
As you can imagine, I received a wide variety of responses. Each one was very good and also reflected the focus of the respective MOC designer. However, it has unfortunately not brought me any further in my initial quest for an answer. Because also clutch power, color fidelity and brick gaps must be dealt with. Thus, what kind of quality Webrick is offering. That's ain't possible with a bunch of few loose bricks of various sorts.
Then I looked on Rebrickable with curiosity, what MOC it could be. With many simple bricks, but what also looks great. Building? No, too mundane. Ship in minifig scale? Oh, I'd love to, that's what I'm looking for – but where to store or show it? Vehicle? Always a winner, great looker in my office.
Whats my line?
But dear, oh my dear…. I didn't find one that appealed to me. Then it hit me: Why not an EOL set from Lego? I already rebuilt the Grand Emporium mostly with Qun Long parts, why not rebuild an old vehicle with 100% from other bricks then Lego? Which one has a lot of basic bricks, doesn't use too many special parts, and has been EOL for at least two to three years? Which one I haven't had yet?
Ferrari F40 (Lego 10248) from 2015
London Bus Routemaster (Lego 10258) from 2017
Volkswagen Beetle (Lego 10187) from 2008
The others like the Volkswagen T1 Camper, the Aston Martin or the Mini I already had. The Mustang, Porsche 911, VW T2 Camper and the old pickup truck are way too new – I can still buy them in the store.
With this list, the memories of the big bug came back to me, where I looked sadly the beetle at the Lego Store in Munich-Riem. So the decision was made, it has to be the 10187 from Lego from 2008.
Easy-Peasy. Webrick does the trick. I dedicated myself to Rebrickable, typed in the Lego set number and then easily downloaded the corresponding CSV file. As it is generally known by now, the rebrickable CSV has become the industry standard.
Although Webrick also accepts other formats like:
Studio: .ldr; .csv & .xml
Lego Digital Designer: .lxf & .bom
Bricklink: .xml
Rebrickable: .csv & .xml
Own made .xml
For own lists in XML format, make sure that you do not mix the color codes. The following formats are accepted:
Lego-Color-ID
Rebrickable-Color-ID
Bricklink-Color-ID
Sure, for us as Laowai, Webrick doesn't expect us to know the Gobricks color codes either. But would also go with those.
Because I want to keep it simple, so I just downloaded the CSV-file from Rebrickable and uploaded it here at Webrick (click):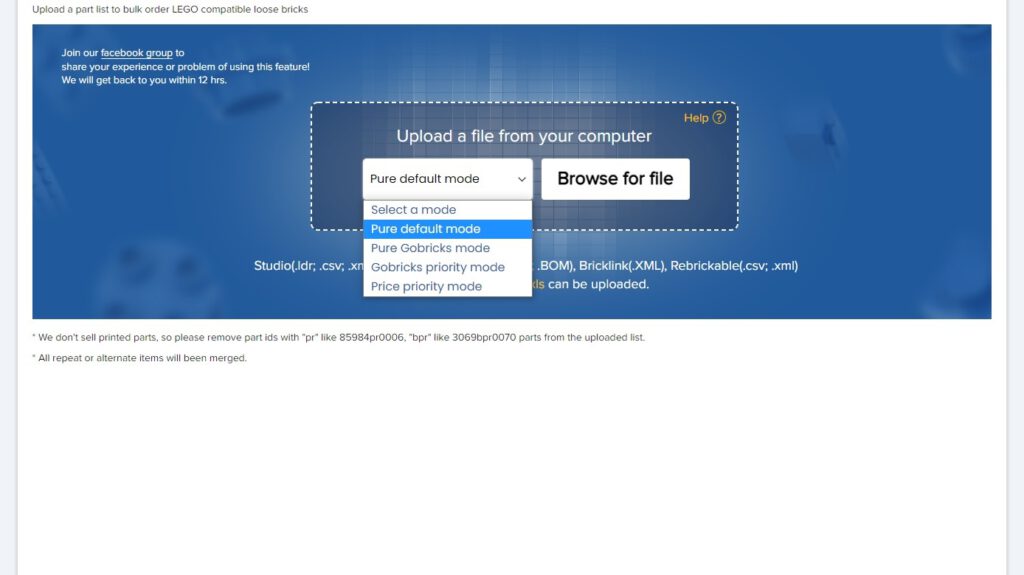 On purpose I chose the default mode at Webrick. The reason was that I wanted to know what I would get for a mishmash of manufacturers.
Spoilt for choice with Webrick
To offer has Webrick among other things also:
Pure Gobricks mode
Gobricks priority mode
Price priority mode
The difference between Pure Default Mode & Price Priority Mode is as follows: In Default Mode, the parts are simply compared with the bricks in stock. Therefore you have manufacturers such as Kazi, Sembo and similar ones. In Price priority mode, cheaper parts are preferred. Parts that are not in stock are replaced with parts from other sources.
Don't forget: There aren't any prints and no stickers at all. Well, the brickhead himself is responsible for either getting the sticker sheet (e.g. for 4.25 euros at the Brickstickershop in the Netherlands or other relevant sites). Or to get some printed parts by himself.
No sooner said than done. Alas, when I sent my order, we had January 19, 2022.
Does this rebuilt rip me off?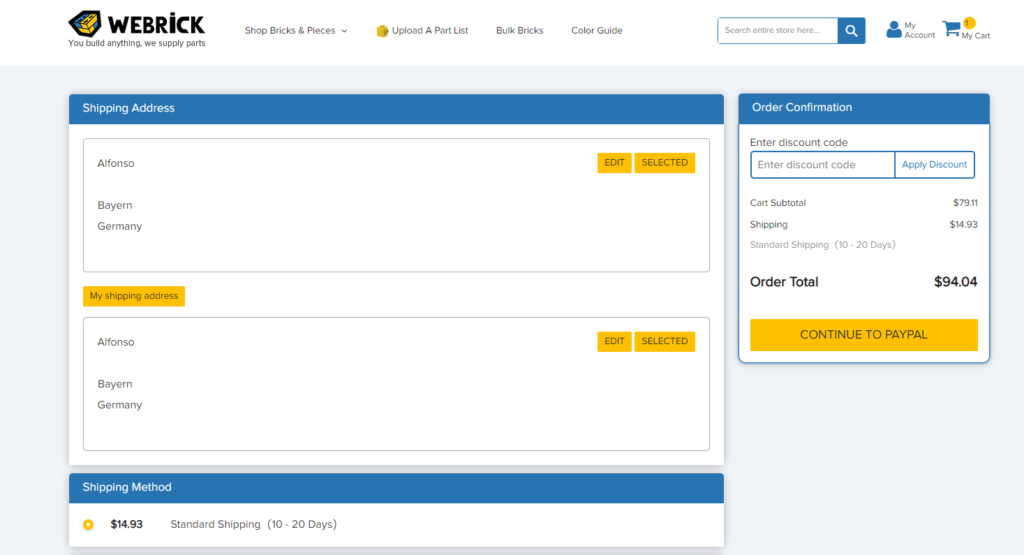 Naaah, none at all! The price at that time was 79.11 US dollars with additional shipping costs of 14.93 US dollars to Germany. That is the equivalent of 83.90 euros with a dollar exchange rate of January 19, 2022.
As this set of Lego isn't longer available, on the below shown trading platforms it's sold worldwide as follows (average prices):
| | | |
| --- | --- | --- |
| Seller | New | Used |
| Bricklink | € 666.20 | € 338.79 |
| Brickset | € 716.00 | € 499.00 |
| Brickowl | € 884.00 | — |
| Amazon | US-$ 929.00 | — |
| Craigslist (USA+Canada) | — | US-$ 400.00 |
| eBay (worldwide) | € 1,250.00 | € 398.00 |
An average of 920 US-Dollars (870 Euros) for an set boxed as new and just under 415 US-Dollars (400 Euros) for a used set is a hefty statement.
Sure, on the shopping platform Aliexpress you can find it there, too. Already now I'm hearing the roar of some experienced China buyers, but… These aren't Lepin sets anymore, they have been gone for a long time. Those offers just are sets with loose parts. Where you have no idea what you will get. Like a blind date, which can end good or bad. For this, the average price on Aliexpress is around 130, – US-Dollars (or 120,- Euros). Shipping included.
Once again, the Lepin set 21014 with Xingbao bricks is no longer available since Lepin ended in 2019. According to my sources, the very last sets were still spotted online in December 2019/January 2020. Production was probably already discontinued in 2018 for the set. Back then it was available for reasonable 60. – US dollars for exportation (price from the year 2017).
All prices as per April 2022.
Unboxing
As already stated, January 19th of 2022 on Wednesday I sent my order to Webrick and on February 3rd of 2022 on Thursday I had received the parcel. I was really lucky, because a few days later was the Chinese New Year – one of the major holidays in China. The whole country stands still there. Honestly, I had expected the 10th of February, but this way is so much better! The schedule is as below:
01.19.2022 Order
01.26.2022 Pickup
01.27.2022 Arrival Shenzhen, China,
01.28.2022 Clearance Export China
01.29.2022 Departure to Europa
01.30.2022 Arrival at an airport in the EU (NL or BE)
01.30.2022 Clearance Import EU
01.31.2022 Handling parcel service in Herstal, Belgium
02.01.2022 Arrival DHL warehouse in Saulheim, Germany
02.02.2022 Arrival DHL delivery warehouse in Aschheim/Munich, Germany
02.03.2022 Final Delivery at my place in the northwest of Munich, Germany
My deepest respect, still shortly before the commencement of the Chinese New Year! But now some images of the unboxing:
Ok, let's be honest – there are only parts in it. Pure Shantou style. The only thing that really has been packed different are the majority of pure Gobricks parts, which traveled in their own bag. The rest has no real system of packing, so I sorted a good time before I started. There isn't an own box except for the brown shipping box from China. Only a super handy sorting box with Gobricks branding was included as a gift. Yay!
Building instruction
Since I am rebuilding an old Lego set, the instructions are very easy available on the web. For this I recommend:
Of course, in this case I'm dealing (mostly) with two PDF files, not printed works. But if I wanted a printed and glue bound manual, the average price on Bricklink would (April 2022) be 90.00 US-Dollars (or 87.- Euros) for a used building instruction. How about no?
The instructions correspond to the old zeitgeist of Lego – whether it was good or bad, I'll tell you in the summary. The fact is that the number of building steps is far lower compared to current Lego sets (April 2022).
Summary of the building instructions
112 pages (effectively 96 pages) on two manuals
2 pages of inventory, 3 pages of evolutionary history of the set & 9 pages of purchase suggestions
58.1 Mb for both PDF (Lego) / 13.8 Mb (Worldbricks.com) / 13.6 Mb (toysperiod.com) / 14.6 Mb (rebrickable)
70 building steps
No building sections
Colored illustration
Parts to be built are shown with yellow frames, no fading
Red and light beige arrows indicate where parts must be built
Light beige boxes indicate substeps
Light blue boxes at the top indicate the parts to be built
This set contains 15 colors:
Black
Blue (only 2 Technic-Pins)
Dark Blue
Dark Bluish Gray
Light Bluish Gray
Medium Blue
Metallic Silver
Red (12 parts!)
Tan
Trans Clear (2 parts – head lights)
Trans Orange (4 parts – indicators)
Trans Red (2 parts – tail lamps)
Trans Yellow (2 parts – fog lights)
White
Yellow (8 Technic-parts)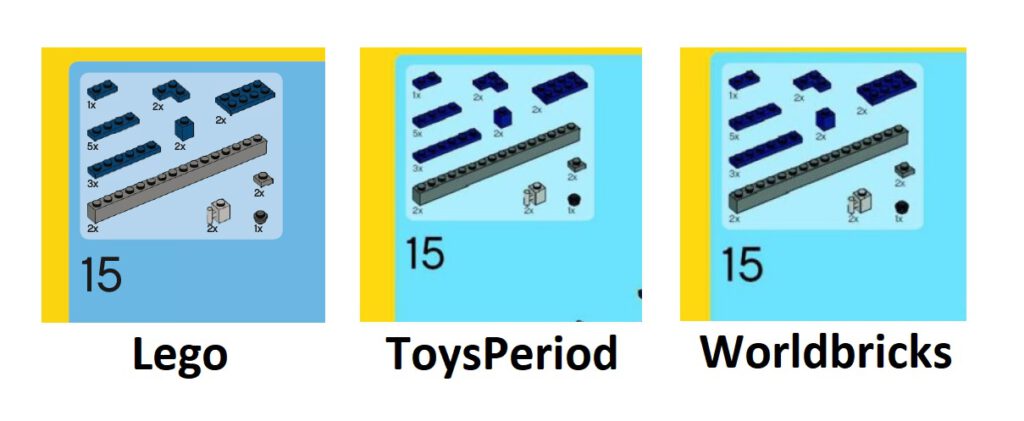 Coming back to the different files – I recommend to use the largest possible file, usually the resolution is in this case the highest. Otherwise you have the same problem like Chinese clones. They often used to have problems displaying certain colors correctly within the instructions. For example Light Bluish Gray <-> White, Black <-> Dark Bluish Gray (sometimes also Dark Blue <-> Black) or also sadly Yellow <-> Tan. I went with low resolution instructions for quite a while and had a hard time with Black vs Dark Blue.
Quirks at building?
Oh folks… where do I start, where do I end. I'm supposed to give only a rating in the summary, it's not so easy to draw a line.
One thing you have to keep in mind right away: It's a trip back in time to the second half of the 2000s, when Lego was just finding itself again. Building techniques are absolutely fundamentally different from today's 18+ sets. It already starts with the number of building steps: 70 building steps with 1626 parts. 270 would be it certainly with Lego today. Wange or LOZ among others are today still doing the old style from Lego.
Day 1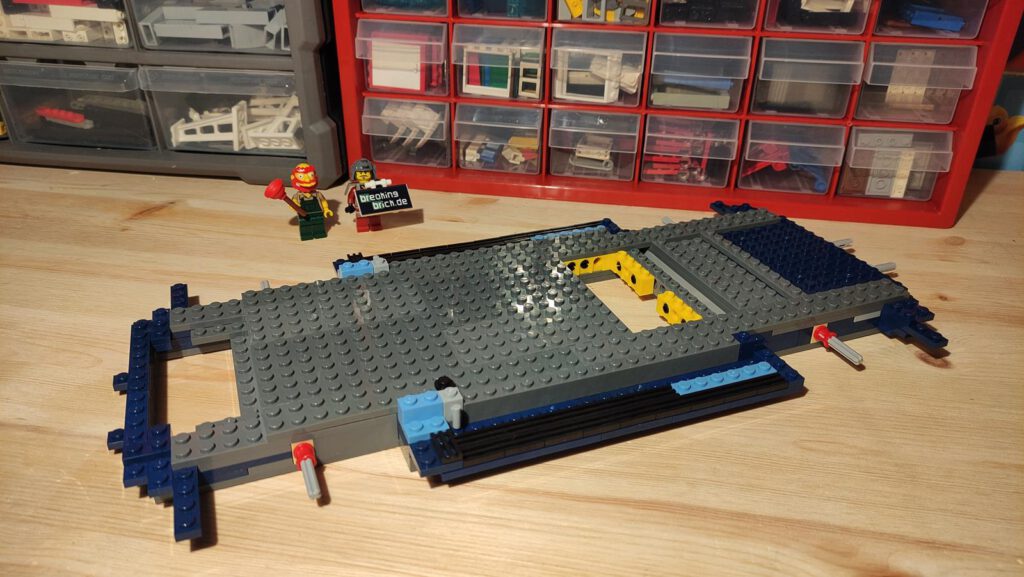 At the first day I got as far as step 16 and the set really turned out to be a time machine. I certainly would have gotten to step 76 with a contemporary set. One missing part (1×12 Brick in Light Bluish Gray) came up. For this, a 1×10 Brick in Light Bluish Gray was inside – which was too much. Since I didn't have a matching part in my spare parts collection, I creatively replaced it with some plates in the matching color. And this will stay in that way.
Color differences I have counted three for this first day, so far. Gobricks are newer and older parts, which you can tell by the Lego part number next to the Gobricks part number on the inside (Older ones do have the Lego part n° in addition). In building step 16 you also have to deal with the first parts in medium blue.
Day 2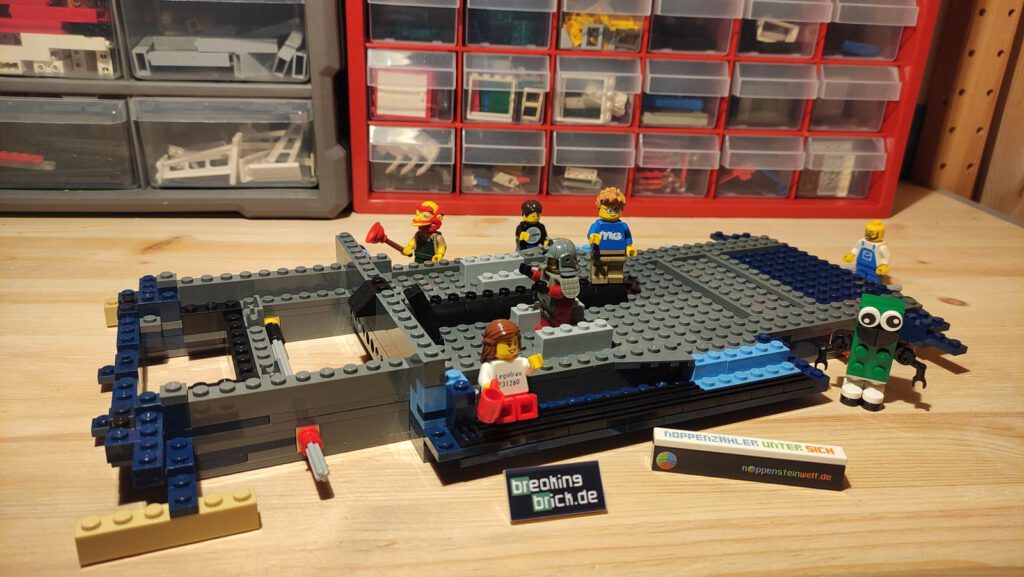 It's smooth ride so far, but from step 16 I only made it to step 21. I encountered the fourth color difference in building step 20. Also two 1×6 bricks in tan are used for temporary support. Except for the shown heating duct for the warm exhaust air from the flat engine in the rear and minor challenges to distinguish Dark Blue from Black: No major incidents.
Day 3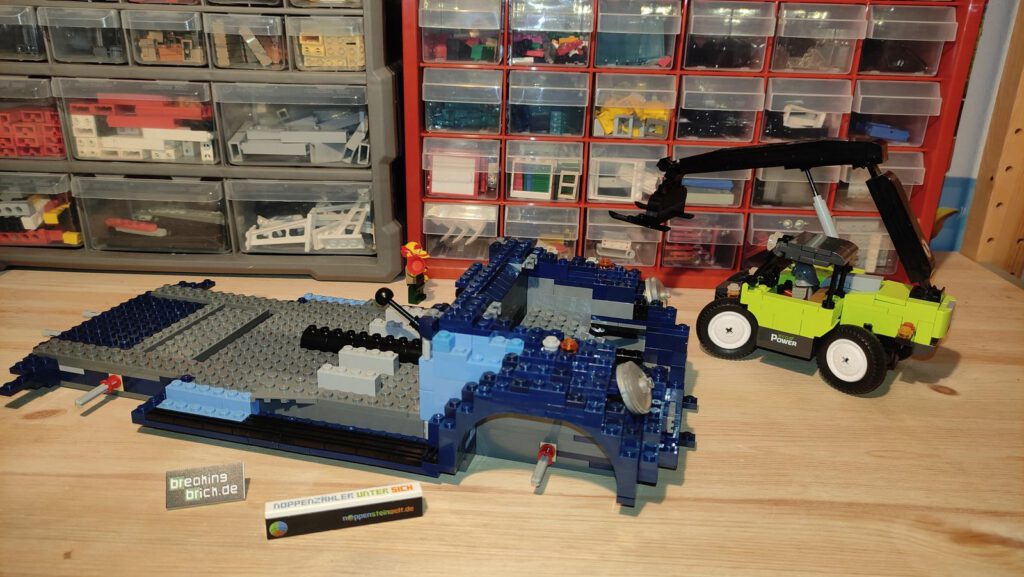 I made it to building step 35! What I have come across as a special feature:
Building step 23: Wrench with a different design.
Building step 26: Removed the two 1×6 bricks in tan used for stabilization from step 20.
Building step 28: Different manufacturers for the 3×3 dishes in transclear (head lights).
Building step 32: Lack of clutch power on a 4L bar and hinge cylinder with axle hole. Both in black and made by an unknown manufacturer.
And I saw everything that I've made, and behold, it was very good. And there was evening and there was morning, the third day. 🤣🤣
Day 4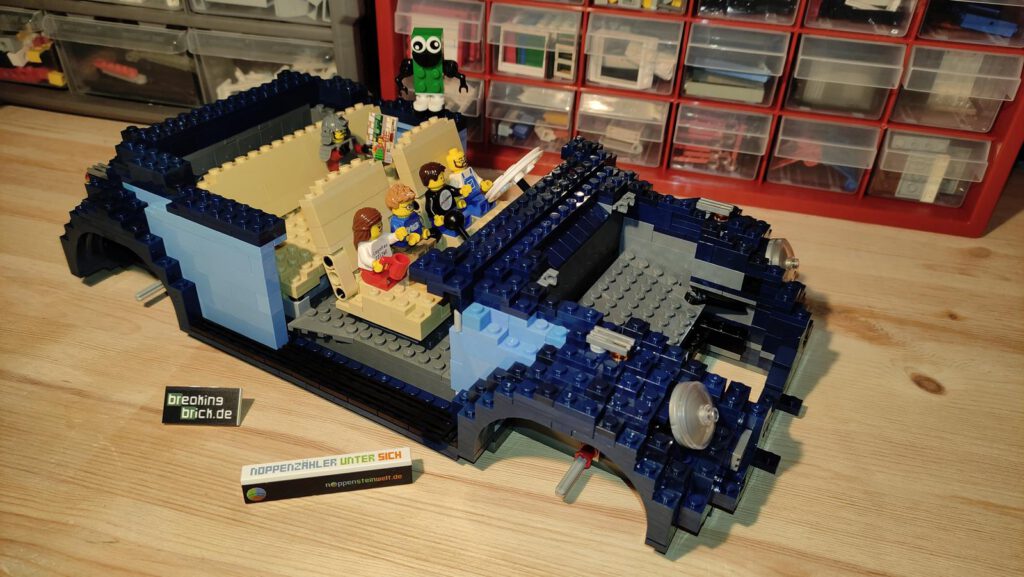 TGIF!! On said friday, the following was entered in the logbook:
First missing sticker for the speedometer (2×2 roundtile).
27 counted color differences.
Return of the two 1×6 bricks in tan for stabilization in building step 40. This time at the tail and from GBL/Kazi.
Building step 43: And they're gone again, the 1×6 Bricks in Tan from GBL/Kazi.
Missing part: One 1×2 Hingebrick top in Light Bluish Gray. Building step 48. Replaced with a spare from my own stock.
Building step 49 to 50: End of the first building instruction.
Another missing part: 1×6 Plate in black – replacement from my own stock with Lego.
I finished the day with building step 58, my bed has already waved to me after the posting on Instagram. I've come very far and the belt line of the beetle has also been reached.
Day 5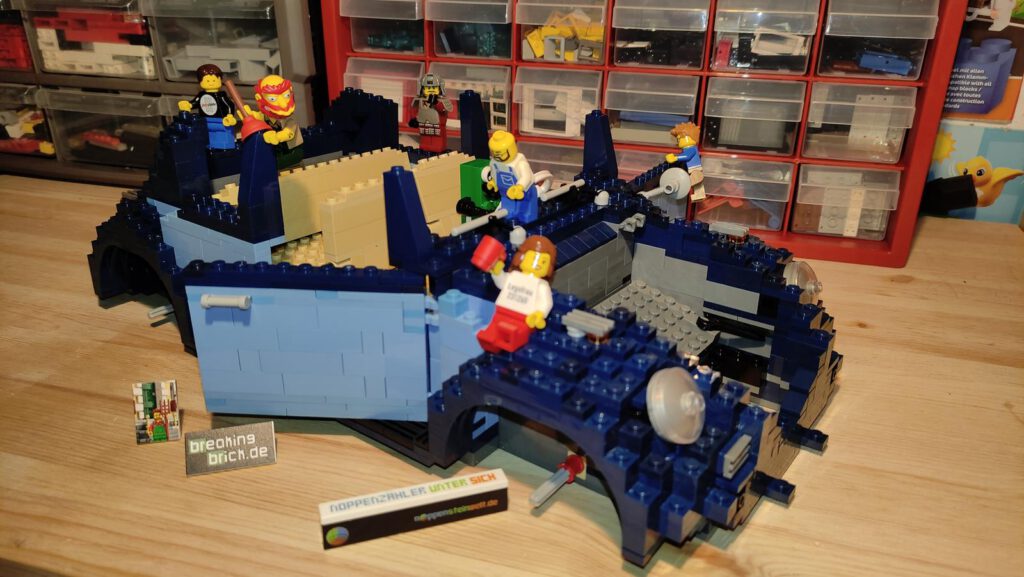 Gradually the end is coming – dangerous and deceptive. A lack of concentration and attention is the result. But a feeling of joy kicks in, because the beetle can be recognized without further ado. With some junkyard look. But what does the log say?
Ten color differences.
Missing 1×1 tile in black in building step 62, substep 12.
Building step 63: Wrong antenna (black instead of light bluish gray)
With construction step 63 I had to turn a blind eye for this and called it a day. The color of the antenna was frankly not important to me, it shall remain the black antenna. When I imagine that I originally wanted to have the Beetle as a "Harlequin"…
Day 6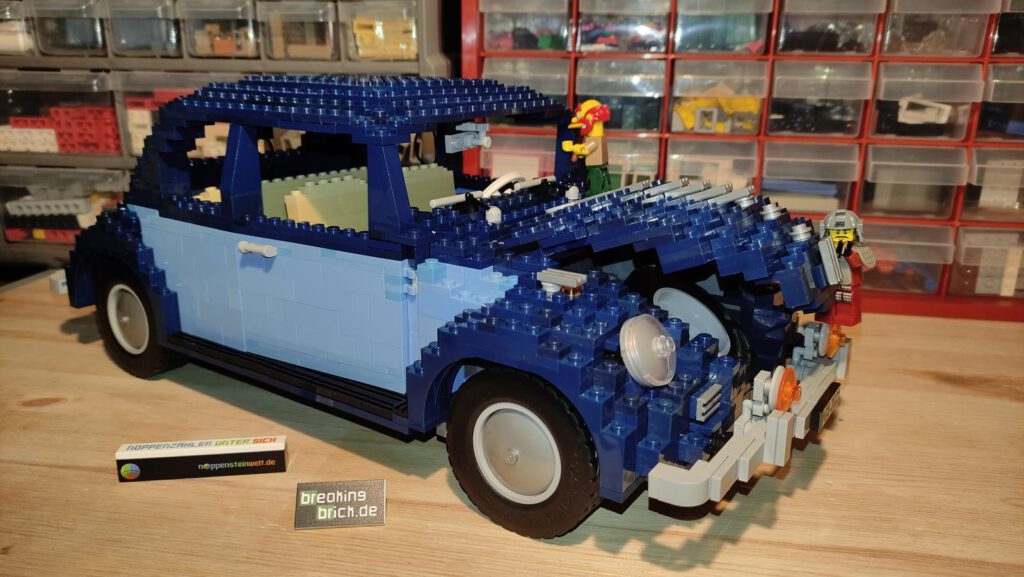 Final lap! Do you know after a long journey, when you are soon to reach your final destination after so much time? That's the spirit!
Missing 1×1 tile in black reappeared – was hidden in one of the tires (haha).
Missing two 2×2 inverted roundtiles in trans yellow. Bricklink, here we go…
A 1×2 plate in dark bluish gray was missing. Replaced from my own stock.
Missing sticker (Volkswagen Logo) on 2×2 roundtile in building step 69-7.
10 color differences.
Still, the journey was not quite finished yet.
Missing parts
I ordered the missing parts which I hadn't in my stock on Bricklink (inverted roundtiles in trans yellow for the front fog lights). And at a friend of mine some parts with custom prints for parts which have stickers in the original set.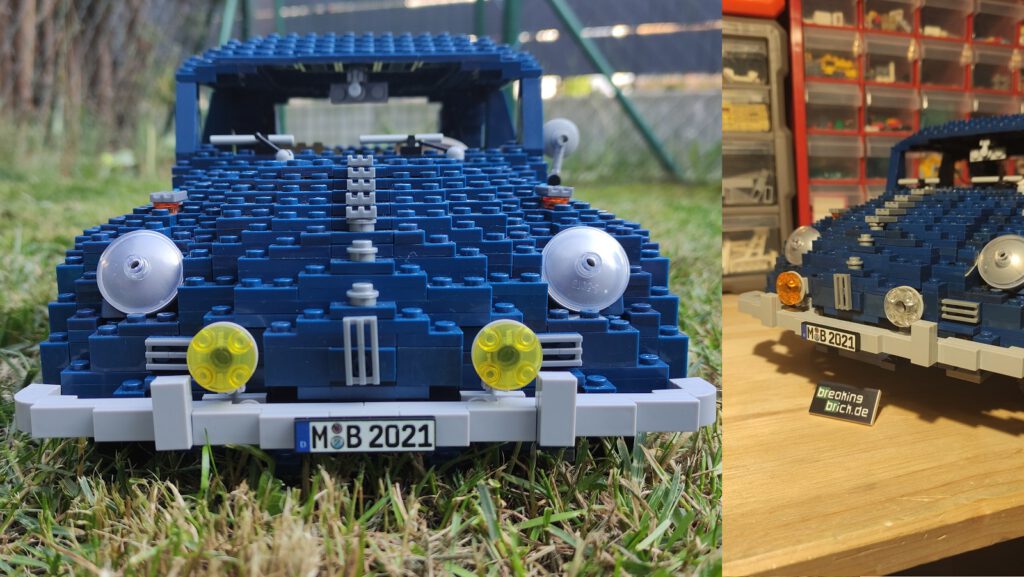 Prints
There was also the option to let reprint the original stickers, but I am absolutely no fan of large huge stickers (for the 8 × 16 tile). For this, I would have contacted either in Germany Achim Simon, who is legendary in the German-speaking community. Or, for example, the previously mentioned Brickstickershop from the Netherlands.
Obstacles
It was basically no big witchcraft to deal with the graphics. More difficult was to find the right motives. The speedometer was a bit tricky, because my graphic on the 2 × 2 round tiles turned out horribly at my friend's printer. A little editing in my graphics program helped, at the end the print was finally pleasing.
Printers can feel time pressure and fear – as it was the case here. The large-area printing for the 8 × 16 tile was and is the bigger challenge and a pain in the butt. The matching license plates also had their price, as the printer for the parts tends to smear, and here I had again pushed the printer to the limit with my graphics. And what had also caused a huge delay: The printer suddenly refused to print the color white. Still now, at article publication for the english version (mid of May 2022), the big-ass print isn't still done. The set otherwise was ready since March 2022.
I can tell you, if there is an item that has a personality or is even a kami: printers. These things must be bewitched.
Some prints have arrived…
Yes, just shortly before the final proofreading of the German version of this review, I received some prints from my friend. This will be followed by a dedicated article (including the failed speedometer):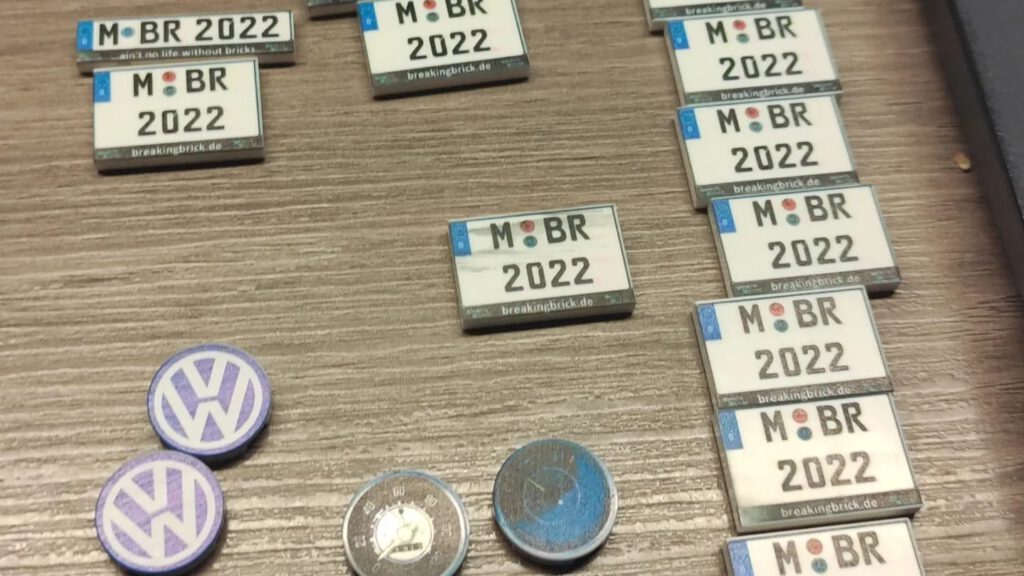 Completed, but not yet finished. All's well that ends well, I hope for the big printed tile to the final completion of the brickbeetle. Fully pictures will be shown in a following article or on Instagram.
Done. For now!!!
Parts quality
In exchange for the value of 80 US dollars, I received over 1626 parts from a wide variety of manufacturers and qualities from China. I decided on purpose for the fastest variant to be able to really get a feel for the suppliers from my set. First of all the listing of all manufacturers in my set:
1150 parts or 70.7%: UCB (Unknown Chinese Brand)
301 parts or 18.5%: Gobricks
75 parts or 4.7%: Jiestar
35 parts or 2.2%: Kazi/GBL
33 parts or 2%: Panda Toys
21 parts or 1.3%: Xingbao
9 parts or 0.5%: Lego (from own stock/Bricklink)
2 parts or 0.1%: JZ (Supplier for a lot of Modbrix-Sets from the past)
In the end, I counted 71 color differences. This may look horrible at first glance, but in total it can be reduced to the following parts:
1×1 Plates in Dark Blue (35 times!!)
2×4 Plates in Dark Blue
Specific 1×2 Plates in Dark Blue
1×4 Plates in Medium Blue
The 35 Plates in Dark Blue in the 1×1 size by themselves made up half of the color differences.
However, the other color differences mostly affected the dark and medium blue parts, and there were also some in tan. However, the market leader occasionally doesn't do it much better…
Nevertheless, the fact is that the color differences are visible to an attentive eye and will immediately be noticed – no pretty words will help here.
The clutch power was overall ok except for one exception in building step 35 (rod and axle hole). The gap dimensions are surprisingly good for such a hodgepodge of manufacturers and brands.
Since there are no large parts in Transclear except for the said 3×3 dishes, no conclusion can be made here about scratches in those parts. Tile scratches were on a usual level for parts from China, nothing new.
Summary
For me entirely a novelty. It's one thing to build a 1980s or 1990s Lego city set with non-Lego bricks along with Lego from that era. Another thing if you're really recreating a set with new bricks of mixed origin.
Here it is up to the buyers judgement what quality of stones are required. Pure gobricks? As much gobricks as possible? Quick parts out without regard to the manufacturer? Or just the inexpensive bricks? I went for the quick sort and was not disappointed at all. 18.5% Gobricks was ok and otherwise the quality was exactly what I expected: Ok.
Webrick and the provided quality
Surprisingly, I had rather expected a limbo party of clutch power than color differences. In addition, I also was waiting for gap dimensions beyond good and evil. But that wasn't the case, I'm personally quite satisfied and I'm sure, with a rebuilt with used Lego bricks, I would have also come up with a color mix, due to the condition of the parts.
Price-wise, the rebuilt is also insofar interesting, because Bricklink would have charged me on the cheapest variant at the time 966.60 US-Dollars or 920.64 euros (without shipping costs) for new parts via three dealers. I think, 88.00 US-Dollars or 84.00 euros are far, far more affordable.
Yeah, yeah, yeah, but how about Aliexpress?
Don't you say? Of course, the Beetle is also offered at Aliexpress with the set number 10187 (currently for about 128.- US-Dollars or 122.- Euro). However, you should be aware that there aren't printed instructions included and the quality of the parts can go on a roller coaster. The dealer does nothing other than buying the needed bricks from several suppliers in China (for usual the most economic) and making afterwards a package for you. Therefore, you pay a three digit sum, also included the Laowai-fee for the dealer on Aliexpress. I wouldn't do it. Exactly for that we have platforms like Webrick. And where on top of it can be paid with Paypal (keyword: buyer protection).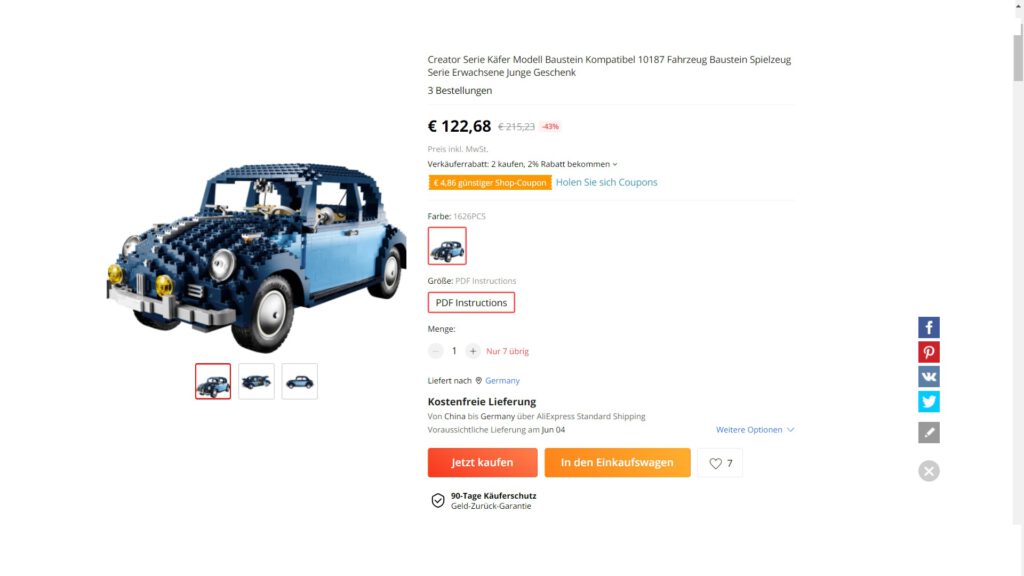 Concentration now begins
The built isn't exactly a smooth ride on a sunny afternoon, as we do know it from current Lego-Sets. It's more like a fast-paced night drive during a blizzard on a winding route in the Rockies. If you don't pay attention, you'll mess up quickly – or if you just use a low-resolution manual (watch out!!). The almost 95.- US-Dollars or 90.- Euros for the original manual was a bit too much for me. Therefore, please really pay attention to a high resolution in the PDF, otherwise the built can be quite exhausting.
Missing parts. Sure, in a manual sorting process it can happen, but it shouldn't. Most buyers of such bricks usually have enough spare parts at home or know how to help themselves with spare parts (Bricklink, dealers like Steinchenexpress or similar).
Webrick immediately offered to send me the missing parts, but to be honest: I wanted to have the missing parts faster. Because one thing must be clear, the shipping time generally varies between 7 and 21 days, depending on whether there are holidays in between or other moving things happen in world history. With packages it goes quite quickly, with postal deliveries in an envelope it can take longer (exceptio probat regulam in casibus non exceptis).
No Prints – no stickers
There must also be clarity from the beginning: No prints, no stickers. The buyer is responsible for these and Webrick also replaces the printed part with one in the identical color without prints.
If you absolutely need stickers, there are some solutions on the web. For example, the Brickstickershop from the Netherlands or on request from Achim Simon from Germany. Personally, I opted for customized prints and designed my own motives based on the old design from Lego. Did I mention that I sacrificed a ritual joss stick to the printer of the parts?
I haven't the slightest idea yet where I'm going to display the Beetle, but I'm glad I got it. In a certain way, a dream from 2008 has come true. I was able to tie in with my "Dawn Ages" and I think it just looked good back then. And now.
By today's standards, the Beetle is ugly AF, because there are simply studs everywhere. Everywhere! Even a layer of tiles wouldn't improve the Brickbeetle, but really: I don't care. Because it's my Beetle and I have a personal connection with it, simply because of the review and my own history with it.
Recommendation
Can I recommend such a purchase at Webrick for the parts? Absolutely. It's probably by far the best option to recreate an old set from Lego inexpensively without spending sums of three or even four digits. I know already that it won't be the last set of its kind and that I have other candidates in my mind. And that's not only from Lego.
Everyone must decide for themselves which option could be appropiate. By far it's a better choice than Vonado or other platforms, where you can also buy MOCs, but you get an absolute lottery of quality for your investment.
That concludes a slightly different review and I thank you very much for your attention with a big bow. If you're interested for the original german version, just try it here: Click.
If you like my work and you aren't yet a regular reader of my blog, subscribe on the right side to the newsletter, but you can also follow my content on social media at Instagram, Facebook and also at the germanspeaking forum Noppensteinwelt.de for new articles or small informations around building with bricks.
I just wanna wish you all a lot of fun with the bricks, have a good time and keep on bricking!
Gallery for Webrick-Rebuilt – Brickbeetle (Lego 10187)
Hard facts about the Webrick-Rebuilt – Brickbeetle (Lego 10187)
Recommended age
16+
Set publication
2008
Price (Not MRSP)
US-$ 88.- / € 84.- (depends on brick type)
Stickers
No
Printed Parts
No
Bricks count
1626
Price per part
US-$/€ 0.05
Dimensions (L×W×H)
 40 × 17.5 × 15 cms (or 15.7″ × 6.7″ × 5.9″)
Building time
180 – 360 minutes
Difficulty level
Medium – Hard
Marking type for bricks to be build in a building step
Parts to be built are shown with yellow frames, previous construction steps are shown in their own color (no fading)
Type of building instruction
Digital (PDF)
N° of pages of the building instruction
112 pages (effectively 96 pages)
Building sections
— (but two instructions)
Building steps
70
Ø parts per building step
23 – 24
Parts inventory inside the building instructions
Yes
Minifigures
No
Instructions available as PDF
Yes (Worldbricks.com, Lego.com,
toysperiod.com, rebrickable.com)
Review comment
A vast majority of parts for the Brickbeetle (Lego 10187) were kindly provided by Webrick for the review. The words and opinion about the set are my own, there was also no obligation to publish.