To be honest, it's the first attempt to provide a proper translation by my own, as I've recognized that I got a lot of readers abroad Germany. Thus, this won't be a translation by machine, it's my own work, probably with grammar issues or wrong used words. Without further ado, let's get right to the 221B Baker Street from Pantasy in English!
Warning: Contains ads (I'm obligated to tell you that, German laws, yadda yadda…)
Today it's going to be British. Sherlock Holmes presents his home on London's Baker Street. The set from Pantasy has been appealing to me for a long time, since it was announced on WeChat in China in October 2021. Pantasy as a brand itself also intrigued me a lot. Watson. Come at once if convenient. If inconvenient, come all the same.
Sherlock Holmes?
Indeed, the last sentence is a quote from Sherlock Holmes from the short story The Adventure of the Creeping Man. Sherlock Holmes, the blueprint of a criminal investigator for pretty much every modern crime novel and later films and series. Created as the main protagonist by the author Sir Arthur Conan Doyle in the late nineteenth century for four novels and 56 short stories over a period from 1887 to 1927. The Guinness Book of Records counts Sherlock Holmes as the most frequently shown fictional character on screen. I assume everyone has met with Sherlock Holmes somehow in their lifes and it doesn't need a lot of introduction. Otherwise, if you have some catching up to do, I advise you to simply read it online.
Pantasy by their own published this short film to advertise the set 86218, which was very unusual for me for a brand from Mainland China. It almost left me speechless when I saw this short film. This kind of effort in advertising is known only by Lego or Mattel for advertising building bricks.
Now it comes to the next bombshell! This set isn't simply stolen from a MOC designer on Rebrickable. First, it comes from a (yet unknown) designer at Pantasy. Second, it has its own license from the "keepers" of Doyle's works, The Conan Doyle Estate from Great Britain. These guys grant licenses to publishers, film studios and, among other things, toy manufacturers. Seen in this way, they preserve Doyle's legacy and also keep an eye on "canonization" so that everything is correctly coordinated with the published works. As best it is possible.
Pantasy – The brand
Pantasy as a brand is very new – there are no records or other informations before 2021, even the well-informed database brick4.com from China lists October 20, 2021 as the earliest date for this set. Other verified sets by Pantasy are also not older than 2021. 拼奇积木 is the Chinese name for Pantasy, translated as Pinqi building blocks.
And Pantasy's motto is "think big". They came to stay. According brick4.com, they published 45 sets for 2021 (click), at brickKK.com even 46. That definetly speaks for them.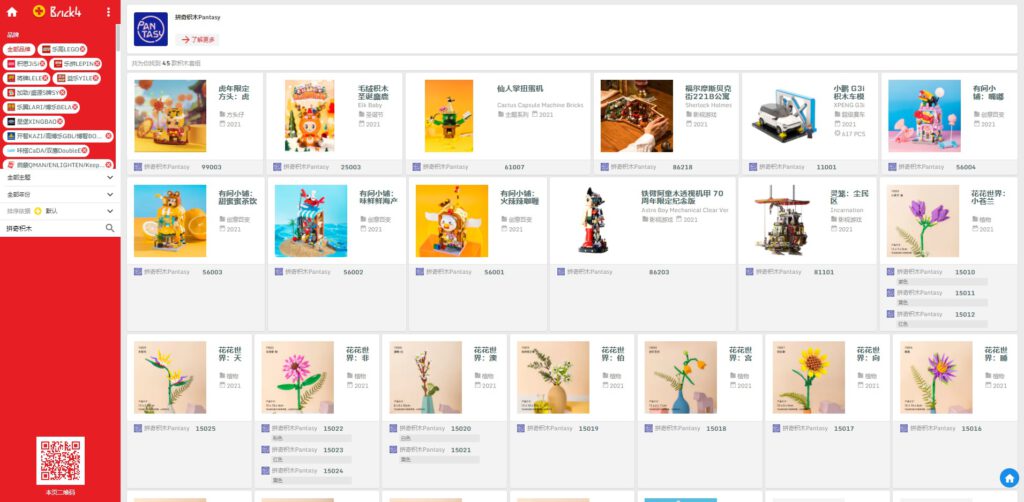 The sets are wide spread across many topics. There are flowers, folding chairs (!!) or a floating settlement (from a Chinese anime called Ling Long: Incarnation or original 灵 笼: INCARNATION). They have also more Chinese themes such as some Brickheadz in traditional Chinese costumes or a mahjong table.
Well, that was my brief introduction of Pantasy. Afterwards at the end I will go into detail with my personal opinion on Pantasy.
The template
There was never an apartment at 221B Baker Street when Conan Doyle wrote the stories. Back then, Baker Street ended at number 100, but today a small museum has been established at 221b Baker St, Marylebone, London, NW1 6XE .
The B in the address stands for the gentlemen's apartment on the first floor, Mrs. Hudson lives on the ground floor below in 221.
Ernest H. Short made a sketch of the premises at 221B Baker Street around 1948 based on all known stories. It was published in The Strand Magazine in 1950.
Since there isn't any actual plan by Conan Doyle per se, Pantasy has interpreted the apartment a little bit more freely as the shown illustration by Short. Basically, Pantasy's apartment can also be seen like a theater stage – or as a display to show off. Pantasy really emphasized a lot of importance on the details in the set itself. I will go into the small details more precisely later in the review. But let me tell you that Pantasy is not stingy with really very precise details, as I realized that in the course of research for this review.
As usual I will continue with the unboxing.
Unboxing
In my case, I received the set in the original retail box. As this is not always the case with imports from China, I would like to introduce this box in detail:
No unboxing without hardfacts:
Dimensions of the box: 38 × 26 × 12 cms (15 × 10.2 × 4.7 inches)
Sealed with a sticker
23 bags with Pantasy label as well as sorted after building sections
1× Printed building instruction
1× 150 ¥ coupon card for shopping via WeChat in China
The bags for the building sections are distributed as follows:
| | |
| --- | --- |
| Building section | Bag amount |
| 1 | 4 |
| 2 | 2 |
| 3 | 3 |
| 4 | 3 |
| 5 | 4 |
| 6 | 6 + 1 |
Regarding 6 + 1, this will be revealed later. The lack of imported air from china is indeed satisfiying, thus it can't be described as a show-off-box (less bags, lot of air – Sluban is known for this). The box is of high quality and its layout is also aimed at older brick enthusiasts. Unfortunately, the set is including minifigures and consequently will not be available in stores within the EU, due to the current legal situation (minifigures are a 3D Trademark of Lego in the European Union). My advice for every commercial importer (or retailer) within the EU: Do not import the set with box and minifigures, unless you like to be sued by Lego and their armada of lawyers.
Building instruction
Many times told: A well made building instruction is the soul of a set. No matter how good the bricks are, no matter how tempting the topic may be – if the building instruction isn't up to the task, the set is lost. And don't be mistaken, the making of such instructions can often be a more complex task for the designer than the set itself. Unfortunately, this fact is mostly underestimated and forgotten. I cannot point out this fact often enough.
Nevertheless, I will now let the pictures speak for themselves and then I'll go into the instructions in more detail.
It is amazing what Pantasy has done with the instructions. It is very reminiscent of Lego Creator Expert sets such as the 10262 (Aston Martin DB5 from James Bond 007 movie Goldfinger). The first six pages (!!) explains the set and characters in detail. On top of that: It is also safely packed in its own bag.
Lost in translation?
I took the liberty and tried my best at the translation, which you can see in the gallery below. The translation of the individual figures will be shown later in the minifigure presentation.
The building instruction as a printing itself is glue bound and looks anything but cheap or inexpensive. I have to anticipate, however, that the instruction has a difficulty in terms of color illustration between Dark Red and Reddish Brown. But more on that later under "quirks at building?".
If one day sales to the West take place in larger numbers, English will certainly follow as another additional language in the instructions for the West – or even replacing Chinese. Xingbao did a similar thing, sets in 2019 were still available in Chinese. With increasing popularity in the West later, sets for our western market were only offered with English descriptions. Mark my words: Pantasy will follow them in the next three to five years.
Summary of the building instructions
112 pages (effectively 106 pages, including six pages of background explanation)
25 × 17.5 cm (9.8 × 6.7″) and when opened approx. 48-49 × 17,5 cms (19 × 6.7″)
183 building steps
Six building sections
glue bound
Color printing
Parts to be built are shown with red frames, previous construction steps are shown in their own color (no fading)
Red and black arrows show where the part has to go
Light beige boxes indicate substeps
The light blue boxes at the top indicate the parts to be built
Longer parts are displayed in the parts box with the lenght in studs
No parts inventory
This set has 30 colors in usage:
Dark Bluish Gray
Light Bluish Gray
White
Sand Green
Black
Tan
Dark Nougat
Dark Green
Trans Orange
Trans Green
Trans Clear
Sand Blue
Red
Orange
Green
Yellow
Reddish Brown
Dark Brown
Trans Light Blue
Dark Purple
Nougat
Bright Light Orange
Dark Red
Pearl Gold
Metallic Gold
Dark Orange
Flat Silver
Trans Yellow
Dark Tan
Pink (for the Brick separator)
Minifigs
Finally, again minifigures in a set from the Middle Kingdom. It's almost half a year ago since I had minifigs in a review. I've heard a lot rumors about the minifigures from Gobricks, but haven't had any of them on my work bench. At first I'll introduce the four minifigs, then I'm going into the differences and similarities to the minifigs from the market leader Lego.
Mrs. Hudson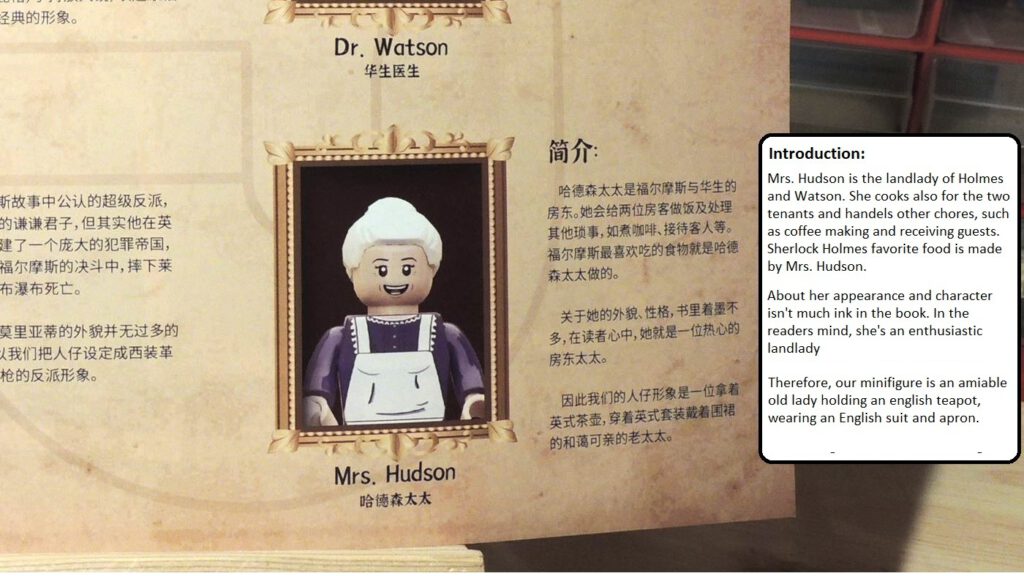 An elderly lady who rents the apartment at 221B Baker Street to Watson and Holmes. She is nuts about both tenants who could be in the age of her children. But both gentlemen, especially Holmes, can drive Mrs. Hudson into insanity, too. Incredible mess, violin playing at the most unlikely hours, occasional gun practice inside the apartment (!!) and on top of that, chemistry experiments which are incomprehensible to Mrs. Hudson. However, both of them pay the rent to the elderly landlady regularly, punctually and quite generously.
Dr. Watson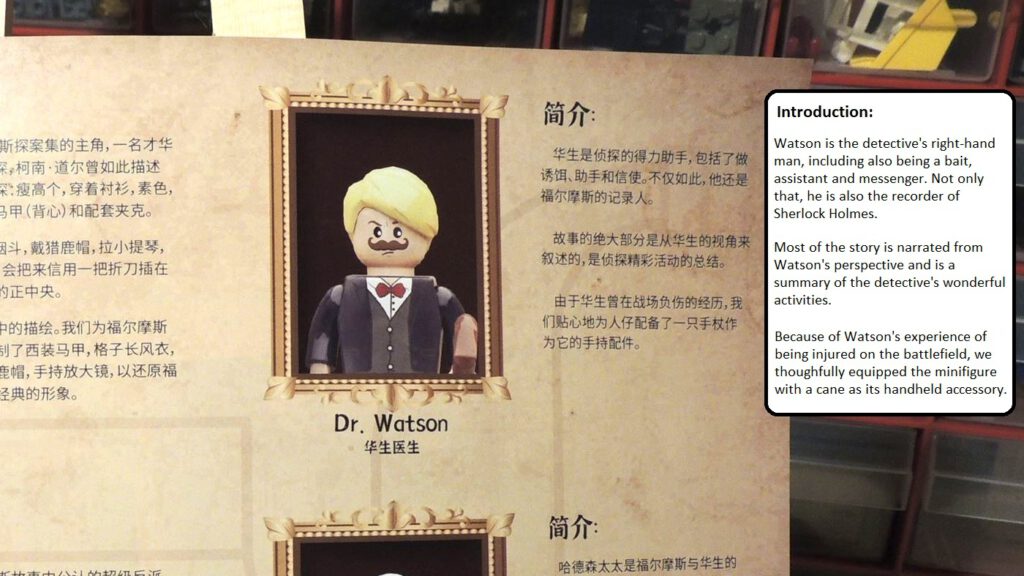 Sidekick. Narrator. Doctor of Medicine. War veteran. Watson loves the way Holmes observes and analyzes things. He is exactly the opposite of Holmes: down-to-earth, morally stable, politically educated and, above all, he can always support Holmes with his medical knowledge. He's loosely based on Conan Doyle himself: scientist, war veteran and war injured. Doyle used the character Watson as "first person narrator". Doyle describes him as a handsome, tall man who is attractive to women. Married twice. His name mentioned in the novels and short stories is John H. Watson, canonically his middle name is never revealed.
Professor Moriarty
The ultimate opponent of Sherlock Holmes. Also very smart, with a refined mind, mathematically gifted and from a good family. Got his professorship at a smaller university in England at a young age. Despite his ingenuity and predicted excellent career opportunity in science, Moriarty chose crime instead. Actually a criminal mastermind who has built an organization with a lot of power in England.
Sherlock Holmes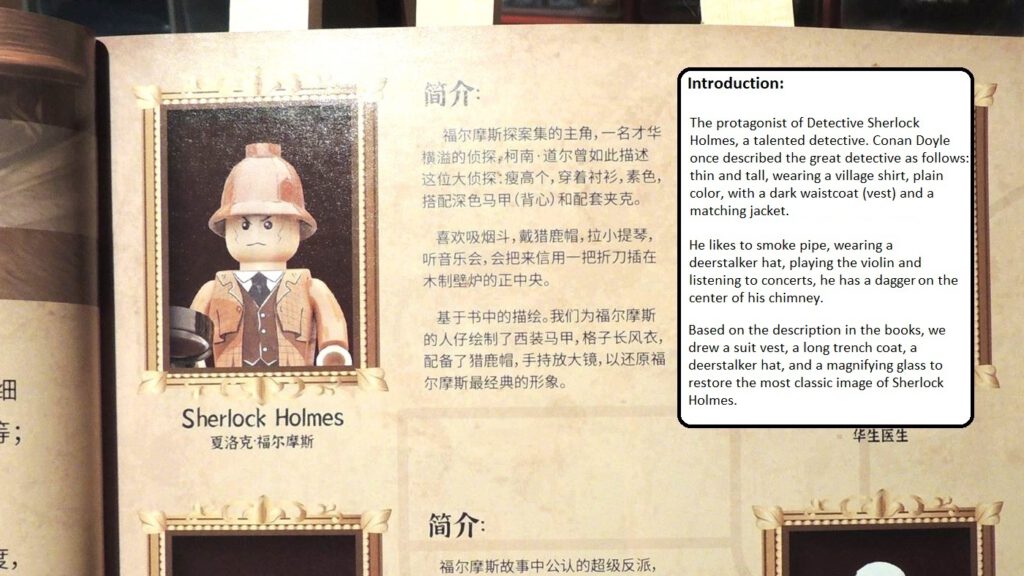 Main protagonist for an enormous amount of novels, short stories, series and films. Also the progenitor for a huge number of other crime solving characters afterwards. A tall and slim man over six feet (about 1.82 m) who is quite eccentric – in contrast to Watson, the down-to-earth man. He plays the violin very well, especially Mendelsohn for Watson, and is a great friend of Goethe. Since he quotes from Goethe's Faust in German, thus he is able to speak German. His methods of solving criminal cases were groundbreaking at that time back then. Being a case closer through his abilities for analytical thinking and also with science (the laboratory!), he solves his cases together with Watson. He's not really into women, except for Irene Adler, who, according to Watson, leaves a strong impression on him. More on that later.
Minifigs by Gobricks
Let's be honest: With this kind of minifigs, there is a possibility to get "in touch" with customs at importation to the European Union. Even being different to the danish minifig from Lego. But if they remind you of an other minifig… they could be the product of a forbidden love made during a mild summer night between an old Xingbao minifigure and the old counterpart of Qman. If you are on that track, you ain't wrong at all.
It can be clipped on studs to sit, the torso can be rotated at the hips, the legs move like the Danish original, the arms can be moved very well in several directions thanks to ball joints (Xingbao is greeting…) and the best thing at the end: the head can be inclined / or lifted a little bit, because the neck is not a stiff rod – it is a ball joint. This figure came partially assembled, so that you don't have to fiddle with the ball joints at the shoulders (Like Xingbao, a nightmare back then…).
Now the question is, where is the "legacy" of Qman I mentioned? The figure is exactly compatible with the Danish-made Lego minifig at the crucial points, i.e. heads and hands are interchangeable and accessories also do fit. Like Qman in the past, before Lego sued them via the general importer for Qman, Steingemachtes in Paderborn.
Accessories aren't perhaps 100% optically perfect around the head, but Moriarty once had diving equipment put on off camera – it worked. In the case of equipment that is placed over the neck, the gentle reader is allowed to align the equipment slightly at mentioned neck.
This figure should be the 21st century Figure made by Lego! But as the guys from Billund, Danmark are stuck to the 3D trademark, they won't make any groundbreaking solutions to their minifig.
Mesdames et messieurs, we will now proceed to building this set!
Quirks at building?
The building sections, including the bags, are precisely divided as follows:
| | | | |
| --- | --- | --- | --- |
| Building section | Building step | Page | Bags |
| 1 | 1-28 | 2-17 | 4 |
| 2 | 29-37 | 18-21 | 2 |
| 3 | 38-66 | 22-35 | 3 |
| 4 | 67-85 | 36-45 | 3 |
| 5 | 86-122 | 46-74 | 4 |
| 6 | 123-183 | 75-106 | 7 |
The built is very well portionized with the building sections and contains every time only a small number of bags. This means, you don't need a huge table to get your set together. You're assembling the apartment in tranquility and patience, there is (almost) no single moment to be complained. But, how ever, this smooth leisureliness also has its pitfalls. A deceptive trap is hidden in building step 137: Dark Red and Reddish Brown.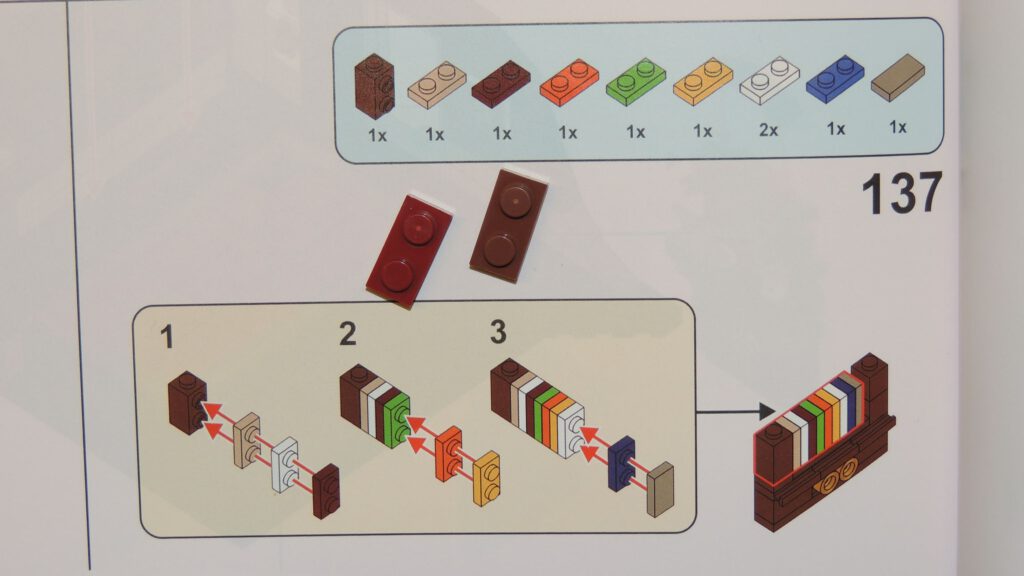 Many brands and manufacturers (Xingbao for example and especially sets of Lego clones from different brands) often suffer from color similarities such as yellow <-> tan, dark bluish gray <-> sand blue and often also dark red and reddish brown. In this case, with this Pantasy set, I noticed in step 141 that I was missing a 1 × 2 plate in Reddish Brown.
How to solve missing/wrong parts:
In such cases, I look into the brick inventory in the building instructions and check afterwards how many of them should be included in the set. But that doesn't work here. So I first separated all the 1 × 2 plates from that building section that had not yet been built and compared them with the instructions for upcoming building steps in the mentioned construction section, to see whether there was any left over or not. At the end there was a plate in dark red left. The technical term "backtracing" comes from the video games community, which in our case specifically means nothing more than retracing the building steps where all previous 1 × 2 plates could be in dark red. Exactly, at step 137 I found what I was looking for and after the correction everything was fine again.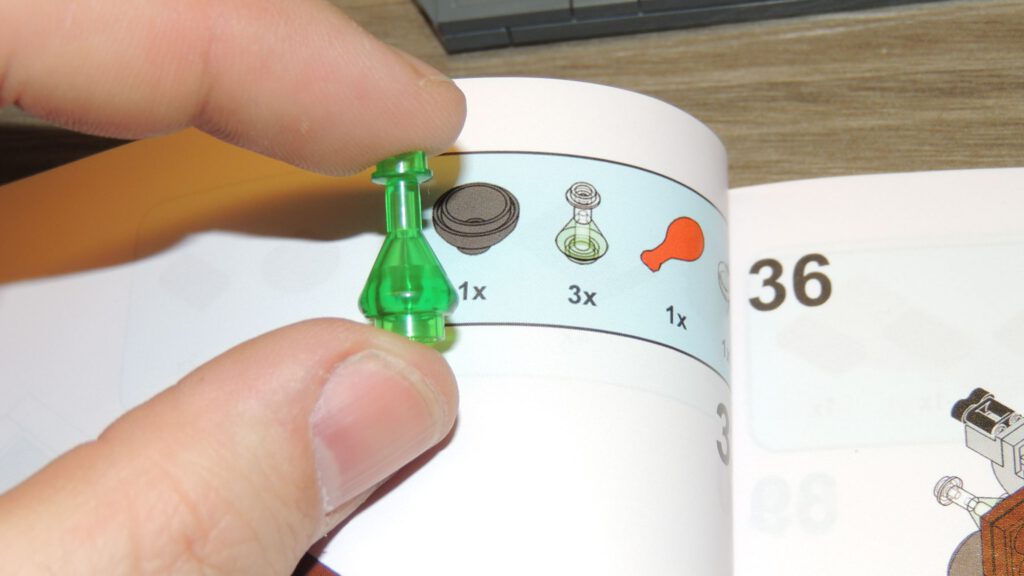 Building step 35 shows a two-colored Erlenmeyer flask (Bricklink Item No: 93549pb01), but Gobricks doesn't offer two-colored flasks. The bulbous bottle is completely transgreen. To be honest, It doesn't matter after all either, because there is no risk of confusion.
The building techniques aren't unusal, only the way in which the wedge plates are built with tiles for the floor to ensure a slope are interesting.
Furniture can be fun!
The method of mounting furniture are well worth a mention. Basically most of them are actually movable in the sense that they can be extracted from the set without further difficulty to be built into another building as a whole piece of furniture. The only exceptions here are in the living room the cupboard on the right hand besides the entrance to the kitchen. Here's a back part of the cupboard connected to the wall by a 2 × 2 bracket. The second exception are the four wall cupboards in the kitchen, including the exhaust hood, which cannot be dismantled without leaving gaps in the wall. But if you are looking for kitchen floor units, you will find it here. Even the chimney in the living room can be removed in one piece if it is absolutely needed.
Other household items such as lamps, armchairs, typewriter, violin and many others are well detailed built without special molded parts. They can easily be rebuilt with own bricks.
Please forgive me if I hardly have any photos of more building steps for the building progress, but in the end you can see definetly more with the finished set in the picture gallery. A half-started shelf is also not that exciting and presenting each shenanigan individually is definitely beyond the scope.
Parts quality
Gobricks. It doesn't really need a novel to describe it, but now in the third year after the major introduction of other building brick brands beside Lego in the German-speaking community, most of the aficionados aka brick heads should have met Gobricks at some point. I assume some even without realizing it. Mould King, Decool & Sembo (both some sets) are brands that actively use Gobricks. There are some parts which do not have the usual Gobricks part n° and consequently cannot be found on the Gobricks page. These parts for usual are accessories. Also, in this set including, more precisely, a white mug (part number m156) on the Watson typewriter. The background will be mentioned later a little bit more closely.
Clutchpower – a keyword for every builder
The clutch power is just right, basically on the Klahold scale at 0.8 Cobi or 8 Sluban and slightly over Lego. They're well bond and tight – very excellent.
The "Klahold-Scale" is a not scientific based inofficial scale for clutch power of bricks within the germanspeaking community of non-Lego-builder. It was brought up by Thorsten Klahold from the YouTube-Channel Johnny's World in 2019 as a semi-fun fact. It describes the clutch power for building bricks as follows: 1 Cobi (polish brand) is 10 Sluban (Chinese Brand). As Cobi is very well known for extreme clutch power, sometimes beyond every imagination and Sluban as the exact opposite (wobbly, sometime clutch power is so absent, that you can barely snip the brick away, especially with older sets until 2019/2020). Modern Lego does fit around 0.6 – 0.8 Cobi or 6-8 Sluban. Gobricks matches 8-9 Sluban or 0.8 to 0.9 Cobi.
Color fidelity and transparency
The color fidelity of parts without transparency is also throughout where it should be, which is also due to the fact that, especially with gobricks, quality checks are very much valued. Almost. But, where's light, there's shadow. The negative thing about the bottles in the kitchen were the transparency with trans-orange and trans-green, which turned out to be totally milky. The same applies to the printed whiskey bottles in the living room with transred and transgreen – but there's hope: It underlines the atmosphere in the living room. A too shiny bling-bling transparent bottle could not have matched to the eccentric disorder of a Sherlock Holmes.
Stay with me concerning to transparency, the glass door in the living room cabinet next to the kitchen entrance also looks a bit worn. It was unfortunately not packed separately and so it does look accordingly. Due to the opulent furnishings in the building, however, this deficit disappears quickly or does not appear in the eye of the viewer. The usual scratches on smaller windows are not really noticeable, only when you look very closely against the light.
Not itchy, but scratchy (sometimes)
The tiles – sometimes a drop of bitternes. Lamentably, almost all tiles suffer microscratches and some visible scratches. The exception here are the tiles in gold, because gold is a core compentency for them. Gobricks knows how to make pieces in pearl gold and metallic gold. Just little marbling, the tiles in the floor as carpet border are of high quality.
Time to weigh
However, many tiles now have casting spots in the bottom. This means later, no matter how the tile is built, no casting spot (point, whatsoever) can be seen. Remarkable!
For this review, the fine scale will be seen again at my work bench, because I was interested in the white cup or mug. My apologies, I can't tell you at what year the Lego mug was made, but it weighs 0.31g, the cup from China 0.33g. The feel, casting seam and color fidelity are identical for both cups. The part number for the cup from China is "m156" and that puzzled me during the review. Also at Gobricks.cn, no cups are offered in the shop area 道具 (props) and the number range and the layout of the part number does also differ to Gobricks. However, the numbers beginning with "m" do often appear in sets with parts of gobricks.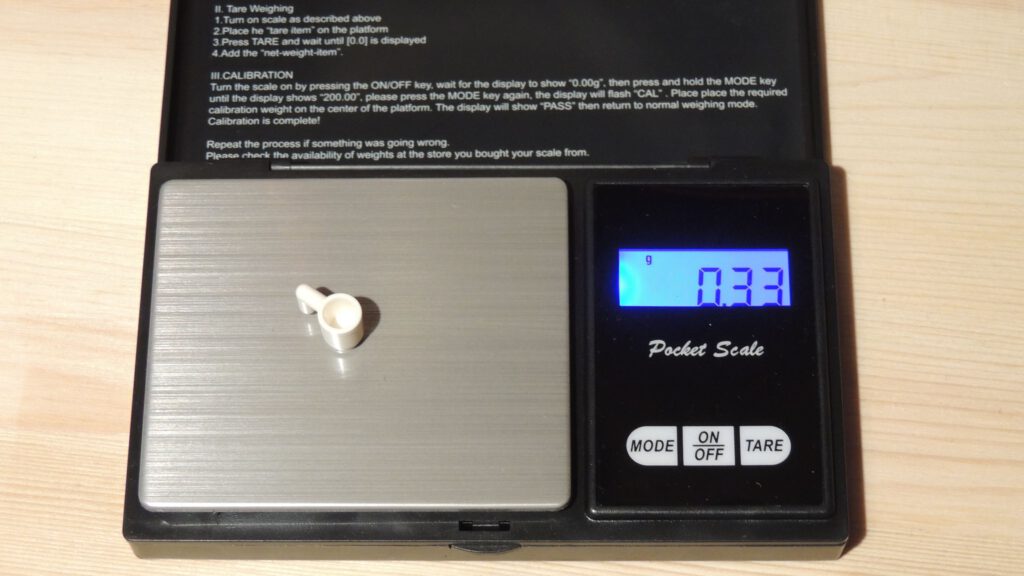 Clearance is (not) granted
Clearance for gaps between the bricks – negligible, or no difference to the market leader Lego. Gobricks is a big player here – if you do notice some gaps, they disappear by pressing proper or aligning them.
A sprue frame with utensils is included, too. Finally no weapons! This means, the kitchen also has a sink, a hand mixer and an eleven-corner bowl (hendecagon does my dictionary tell me… never heard of that word) are also included. The "casserole dish" becomes a sink, the bowl remains a bowl.
Lego meets Gobricks
Some parts at Gobricks (still) have Lego part numbers besides their own part numbers. Lego part numbers are no longer displayed for newer parts. As an example I took the cabinet door with the parts ID 4533 (Lego) and 1300 (Gobricks). But also completely compatible with each other without restrictions or color differences.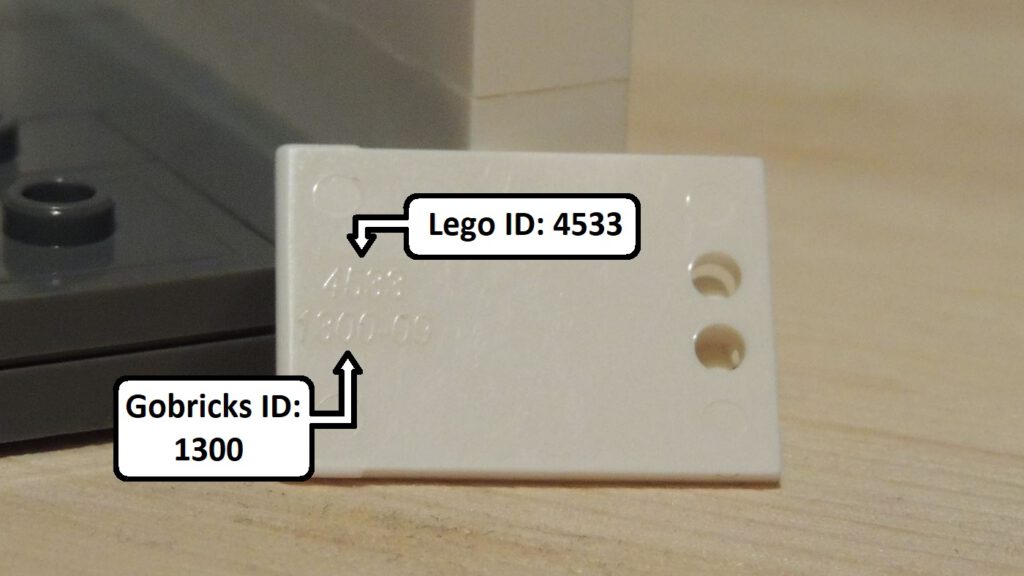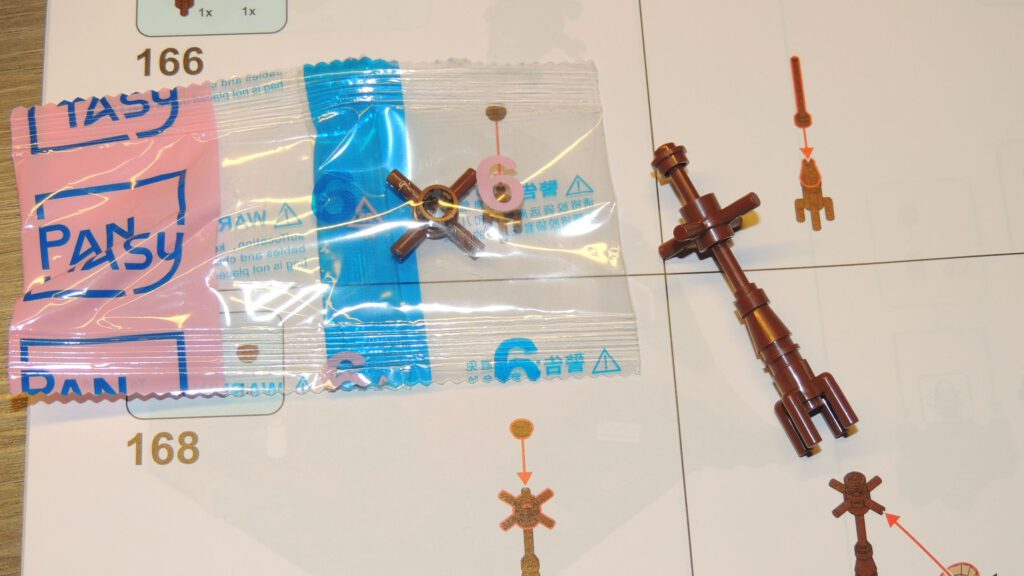 At the beginning I said that there are six plus one bag for building section six. Actually only six bags were planned in the mentioned building section, but one part do suffer an error:
Pantasy themselves enclosed this bag, which was only printed with the building section, in order to replace the non-functional part. Both parts look identical, but the original part does not hold on to a rod (bar). I could not determine whether the difference is due to a misinterpretation at Gobricks (Assumption: Prototype built with Lego at Pantasy or at the designer's bench – part was not available at Gobricks – no communication to Pantasy about the missing part – wrong part was added). At Lego, the part in question has been reissued. The older part has the number 48723 on Bricklink and was used until 2020, the new part has the number 68888 and is also lower than its predecessor. Maybe there's the rub.
Prints
As mentioned, there aren't any stickers, only prints were used. And these prints are in an outstanding quality, without any doubts. The background stories to the prints themselves are a class of its own. The quality of the motives do remember a lot of the transfer printing stickers from the Sembo Club SD6991. Gobricks can even apply the smallest fonts to the parts. However, it's not the quality alone, but the attention to details of the chosen prints.
If you have already noticed the skull print on the 1 × 1 Roundbrick (on the chimney) and you're not satisfiyed because it isn't a proper head: There is no room for a traditional white brickhead with a skull print. A pity. The metronome next to it has also a razor-sharp print on it. Or the tea tins on the kitchen cabinets, pictured in a very British way.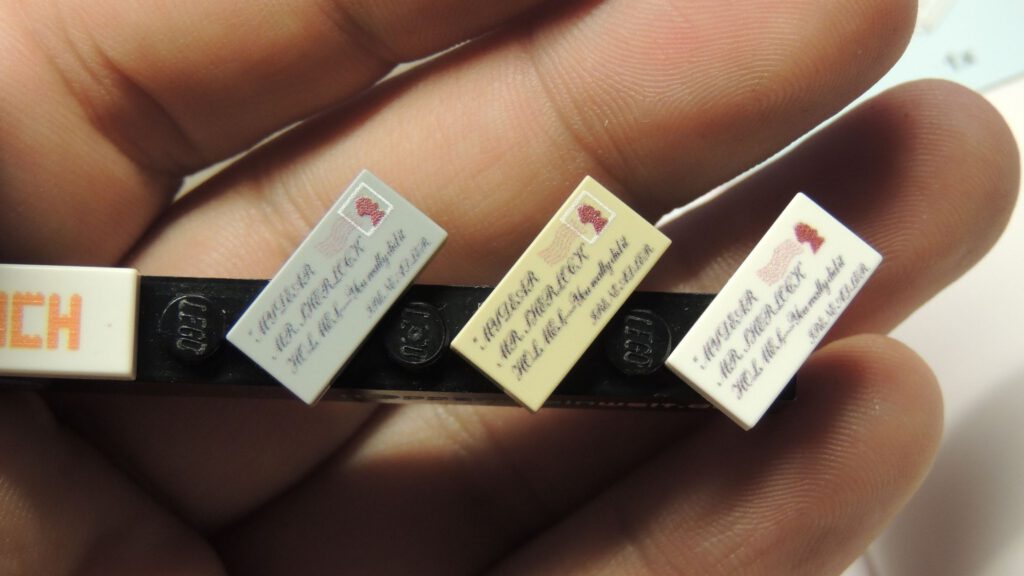 The print on the envelopes (1 × 2 tiles) including the stamp do show this:
MY DEAR

MR. SHERLOCK

HOLMES_You really did it

IRENE ADLER
The tile is scattered several times in the apartment, as Irene Adler was the only woman mentioned in the texts with affiliation to Sherlock Holmes.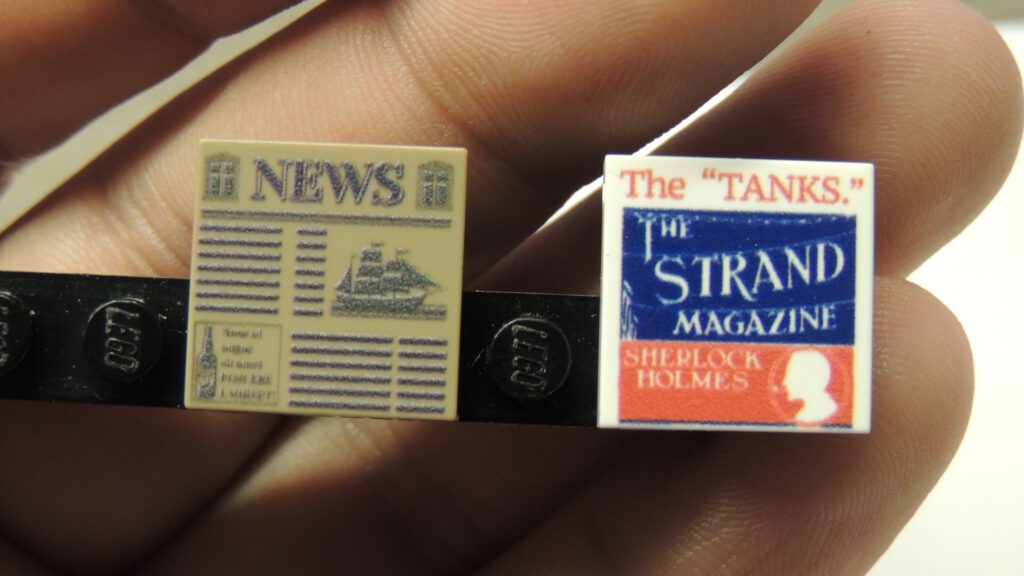 There are also other tiles, like just "The Strand Magazine" with its cover. The magazine had a reputation to be somehow very modern and bohème back then. Most of the texts about Sherlock Holmes by Conan Doyle first appeared in this magazine. It was monthly available and at that time one of the first modern illustrated magazines with topics such as stories, articles on nature, technology and contemporary history, as well as short news about celebrities and curiosities. The magazine gained popularity thanks to revolutionary new printing techniques at that time (End of 19th century), it was also possible to print photographs.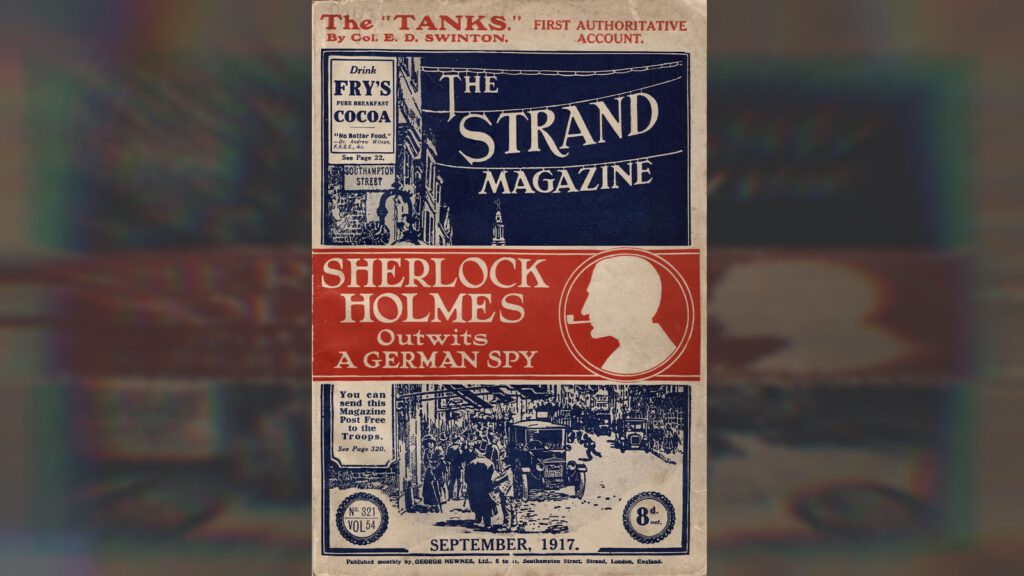 Research has revealed that this is the cover of the September 1917 edition, which can be proven with "The Tanks" above. It's not hard to see that the folks at Pantasy went to Wikipedia for an inspiration here (click).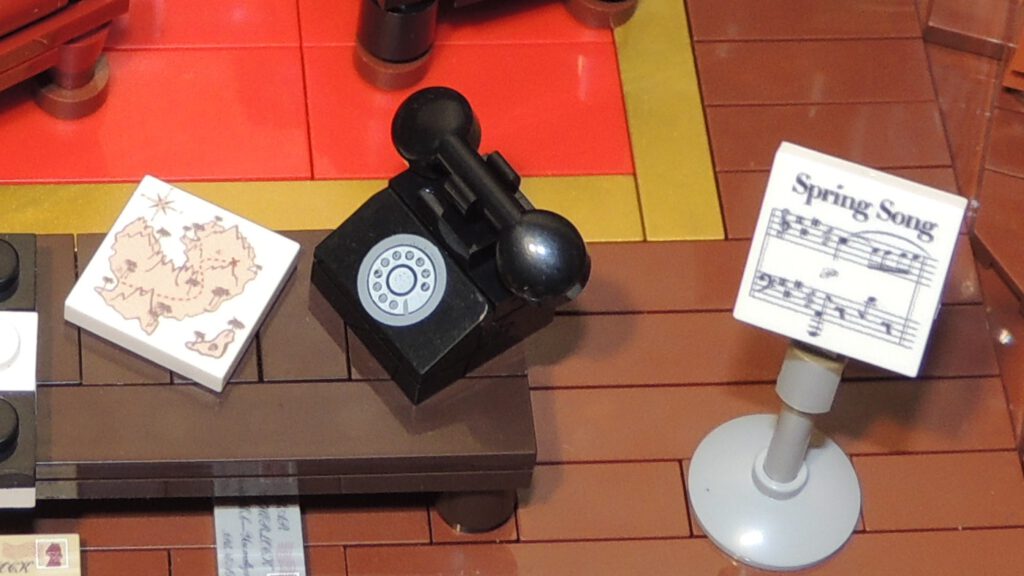 The esteemed reader might also think, that an ordinary tile on the right with a print or sticker was selected from Lego with some notes. This is not true, not at all. And exactly because of the "Spring Song" I was blown away, again. Why? Because a little reading on various pages about Sherlock Holmes has revealed that those shown notes are from a work by Felix Mendelssohn. Said composer is heard with pleasure by Watson and played by Holmes. More precisely, the notes shown were the Allegretto grazioso in A major op. 62 No. 6 (MWV U 161), which also has the popular name "Frühlingslied" or "Spring Song". The notes above actually correspond to the sheet music for the violin.
But there's also something I don't agree with the instructions. This is the representation of a "Map of English Islands" (on the left of the image before). Personally, I'm very interested to know what coastline this map really shows. Otherwise, the print for the dial on the phone resembles the Danish counterpart from Modular 10278, the police station. Only, Pantasy's version is less comic-like and more realistically printed.
Summary
Freakin' awesome! It's not happening that often that a set makes so enthusaistic about it. Moreover, even it isn't a modular building and I did't knew the topic well. It's packed to the brim with all sorts of little details about Sherlock Holmes, so far I researched here as part of this review. Every aspect I came in touch, I was blown away by how much efford the guys at Pantasy have put into their interpretation of the 221B apartment in London's Baker Street.
Even if you have only little space to build this set – the fragmentation into building sections let you build this set really very relaxed after work, for example. I got luck possessing the original box, so I could stow the partially built set in the box without any problems, including unopened parts bags. Hence the scratches on the box, because during the breaks the box was parked on the cabinet (To be protected from unattended children's hands).
I wanted it because I need the interior for my modified garden café from Wange (Set n° 6310), the set from Pantasy goes with a kitchen and a living room – with lots of accessories.
At no point was I bored, even though the building techniques aren't challenging a skilled builder. The building instruction isn't a thin booklet, but it's ain't a phone book for a megacity – or a subsidy for the paper industry. Building steps with two pieces are rare, but it alternates sometimes. Lego would probably needed 290 building steps or more compared to Pantasy.
This is exactly the kind of set that Lego would have marketed as "18+ Expert Professional", but even a talented beginner with ambitions can build it. Bear in mind with sets from China: Use your brain. You need it, not like newer building instructions from Lego.
Balanced, that what it is, thats the best description regarding the building process.
I told you before, that I'd like to go more into the detail about the parts that don't have Gobricks part numbers. My first suspicion was, that these parts ain't Gobricks, respectively were added later by Pantasy. However – within a conversation with Doschdn from the german YouTube channel Doschdns kleine Klemmbausteine Ecke (Doschdn's little building brick corner), he gave me the hint, that quite often parts with a lowercase "m" in front of the part n° are included in sets with Gobricks, especially if these parts are not available for sale on the Gobricks site. Possible background: Gobricks is a contractor for Pantasy. Pantasy gives their complete parts list to Gobricks and Gobricks provides all the parts along with picking, filling and packaging. What they don't have will be purchased externally. In this possible scenario always from the same supplier to ensure consistent quality. If a part is not in frequent demand by customers and is only needed for contract work, then it makes perfect sense to have the corresponding part manufactured externally. Especially if Gobricks can control the quality, respectively if it fits to the other parts in the own portfolio by Gobricks.
It was amusing for me, how Pantasy used sometimes certain accessories. The butter knife on the chimney represents a dagger. Above Watson's typewriter is a gold pistol. The deer head including antlers and headphones – thats a hint to the newer BBC series namend Sherlock (2010 – 2017). The pith helmet as a deerstalker cap. Let's put it this way, you never get bored looking at the set.
Note for all readers within the EU: As with all imports from countries abroad the EU, please pay attention if the set contains minifigures that may fall under Lego's 3D trademark – this can lead to confiscation and destruction by customs when importing into Europe. But how precise the law is executed and what exactly falls under the 3D trademark protection law, no one knows (yet) exactly. This is quite large gray area and keeps the lawyers from all sides busy. Here I recommend the video uploaded the YouTube channel Doschdns kleine Klemmbausteinecke from August 11, 2020, here is the link. Attention, it's in german (activate the subtitles and if its possible, the auto-translation).
Back to Pantasy itself. It is inevitable that a new player in China is now on the "war theater" and wants to be a part in the so-called 18+ segment, where Lego now also wants to show off worldwide. In a conversation with BrickKK.com it came out that especially with the Sherlock Holmes set, we westerners should be convinced. I am very curious what else will be in the future upcoming from Pantasy. One thing I already know: It won't be the last set from Pantasy on my work bench.
Diligence: Neither Pantasy (on the building instruction and/or packaging) nor Brick4.com name a brick count. I had the mental insanity and counted all the parts with the help of the instruction. With the accessories but without minifigures I counted 1,019 parts. Spare parts not included (about 40 – 50 pieces).
BrickKK offers the set for US-$ 69,- (approx. € 61,-) without box and for US-$ 79,- with original box (€ 70,- at 31.12.2021 for each). My recommendation: As a gift, buy it with the original box, if you want to treat yourself, take it without box. The surprised face of the presentee with the original box will speak volumes, especially if it's a Sherlock Holmes fan.
Just under five to seven Eurocents per part is correspondingly inexpensive for the given quality. Because prices will increase of up to 30% for 2022 in China. If you want to get the set, you can save ten percent with my coupon:
With over 30,000 characters, I wrap up this review, which is also the first translation from German to English by my own (original german version can be read here: click). I thank you as always for your attention and loyalty and especially again to KaraBenNemsi for proofreading! Feel free to tell me your thoughts and opinions down in the comments, I always look forward to your input. Also, correct me please if you experienced any mistakes in grammar or orthography.
If you liked my work here and you aren't yet a regular readers of my blog, subscribe on the right side to the newsletter, but you can also follow my content on social media at Instagram, Facebook and also at the germanspeaking forum Noppensteinwelt.de for new articles or small informations around building with bricks.
As we moved from 2021 to 2022, happy new year to you all!!
Stay happy, have a good time and keep on bricking!
Gallery for Pantasy 86218 – 221B Baker Street
Hard facts about Pantasy 86218 – 221B Baker Street
Recommended age
No age recommendation (for real: from 10-12 years)
Set publication
2021
MRSP (December 2021)
US-$ 69,- to 79,- US-Dollar (without or with box)
Stickers
No
Printed parts
Yes
Bricks count
1019
Price per piece
US-$ 0.07 to 0.08 or Euros 0.06 bis 0.07
Dimensions (L×W×H)
36

×

20

×

10 cms or 14.1

×

7.9

×

3.9″
Building time
120 – 180 minutes
Difficulty level
Easy – Medium
Marking type for bricks to be build in a building step
Parts to be built are shown with red frames, previous construction steps are shown in their own color (no fading)
Type of building instruction
Color printed (glue bound)
N° of pages of the building instruction
112 (effectively 106 pages)
Building sections
6
Building steps
183
Ø parts per building step
5 – 6
Parts inventory inside the building instructions
No
Minifigures
4
Instructions available as PDF
No
Review comment
The set 221B Baker Street, set n° 86216 from Pantasy was kindly provided by BrickKK.com for the review. The words and opinion about the set are my own, there was also no obligation to publish.